Carl grew up in the Pacific Northwest and graduated with the Class of 1993 from Washington High School in Parkland, Wa. While attending high school, his academic interests ranged from science and math to computer technology and art. He wanted to be able to use his interests and talents to help other people. Upon hearing this, Carl's family dentist (Dr. S. Gary Steinman) said, "I think you would make a very good dentist." Carl acted on that suggestion and entered college with the intention to get accepted into dental school.
At Western Washington University (WWU), Carl pursued a degree in biochemistry. In the summer of 1996, Carl married Jodi Lemmon, a Bethel High School graduate who was also attending WWU.  After four years at Western, Carl applied for and was accepted to the University of Washington School of Dentistry. He earned his Doctor of Dental Surgery (D.D.S.) degree in the Spring of 2001.
Dr. Youngquist worked for 2 1/2 years at a community dental clinic in Tumwater, Wa. He treated low-income patients that typically have more advanced dental disease and health problems than the general population. In the August of 2004, Dr. Youngquist acquired the dental office of Dr. Arlan Ellis, in Orting, Wa., where he continues to practice general dentistry.
Carl and Jodi have three sons: Ben (9), Justin (6), and Ryan (3). When he is not chasing his kids around, Dr. Carl enjoys running, hiking and backpacking.
Since seventh grade, Carl has been a runner. In high school, he raced on the cross country and track teams. Carl's personal best 1600 meter (1 mile) time is 4 minutes and 31 seconds. He has raced in eight marathons… including the prestigious 114th annual Boston Marathon in April, 2010. His fastest marathon is currently 3 hours and 14 minutes. In local races, he often places in his age group. On weekends, you might see him training on the Foothills Trail in Orting.
Dr. Youngquist is a member of the American Dental Association, Washington State Dental Association, Pierce County Dental Society, and the Academy of General Dentistry. On July 30, 2011, Dr. Youngquist was awarded a Fellowship in the Academy of General Dentistry (FAGD), a prestigious award for dentists who demonstrate their commitment to dental excellence through continuing dental education.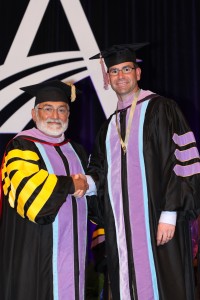 Dr. Carl Youngquist receiving the Fellowship award.
Orting Dentist Receives 2011 Fellowship Award from the Academy of General Dentistry
CHICAGO (August 10, 2011)—The Academy of General Dentistry (AGD), a professional association of more than 37,000 general dentists dedicated to staying up to date in the profession through continuing education to better serve the public, is pleased to announce that Carl W. Youngquist, DDS, FAGD, of Puyallup, Washington, received the association's 2011 Fellowship award during the AGD 2011 Annual Meeting & Exhibits, held July 28 to 31 in San Diego, Calif.
The Fellowship award is presented to dentists who seek to provide the highest quality of dental care by remaining current in their profession. To accomplish this goal, Dr. Youngquist completed 500 hours of continuing dental education, passed a comprehensive exam and fulfilled three years of continuous membership in the AGD.
As a recipient of the Fellowship award, Dr. Youngquist joins more than 7,000 active AGD Fellows who understand that providing great smiles and good oral health for their patients are the result of going above and beyond basic requirements.
"We are proud to honor Dr. Youngquist for his commitment to the profession," says AGD President Howard Gamble, DMD, FAGD. "He has distinguished himself professionally among his peers and demonstrates the characteristics of a role model to both his fellow dentists and to the members of the community."
About the Academy of General Dentistry
The Academy of General Dentistry (AGD) is a professional association of more than 37,000 general dentists dedicated to staying up to date in the profession through continuing education to better serve the public. Founded in 1952, the AGD has grown to become the second largest dental association in the United States, and it is the only association that exclusively represents the needs and interests of general dentists. More than 772,000 persons in the United States are employed directly in the field of dentistry. A general dentist is the primary care provider for patients of all ages and is responsible for the diagnosis, treatment, management and overall coordination of services related to patients' oral health needs. For more information about the AGD, please visit www.agd.org.